Welcome to the FNaF's World Wikia
Welcome to the FNaF World Wikia! Feel free to contribute and create any necessary pages! This game is not yet released, however we know the characters due to constant teasers.
FNaF World
FNaF World is an RPG style game featuring the characters from the Five Nights at Freddy's series. Each character has become more kid-friendly, resembling cartoon-type models and are named 'adventure' animatronics. People can create parties and choose a character from the options.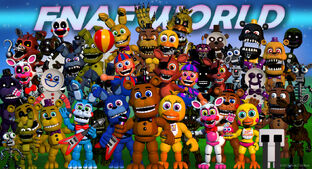 Do you like the new Adventure designs?
Ad blocker interference detected!
Wikia is a free-to-use site that makes money from advertising. We have a modified experience for viewers using ad blockers

Wikia is not accessible if you've made further modifications. Remove the custom ad blocker rule(s) and the page will load as expected.